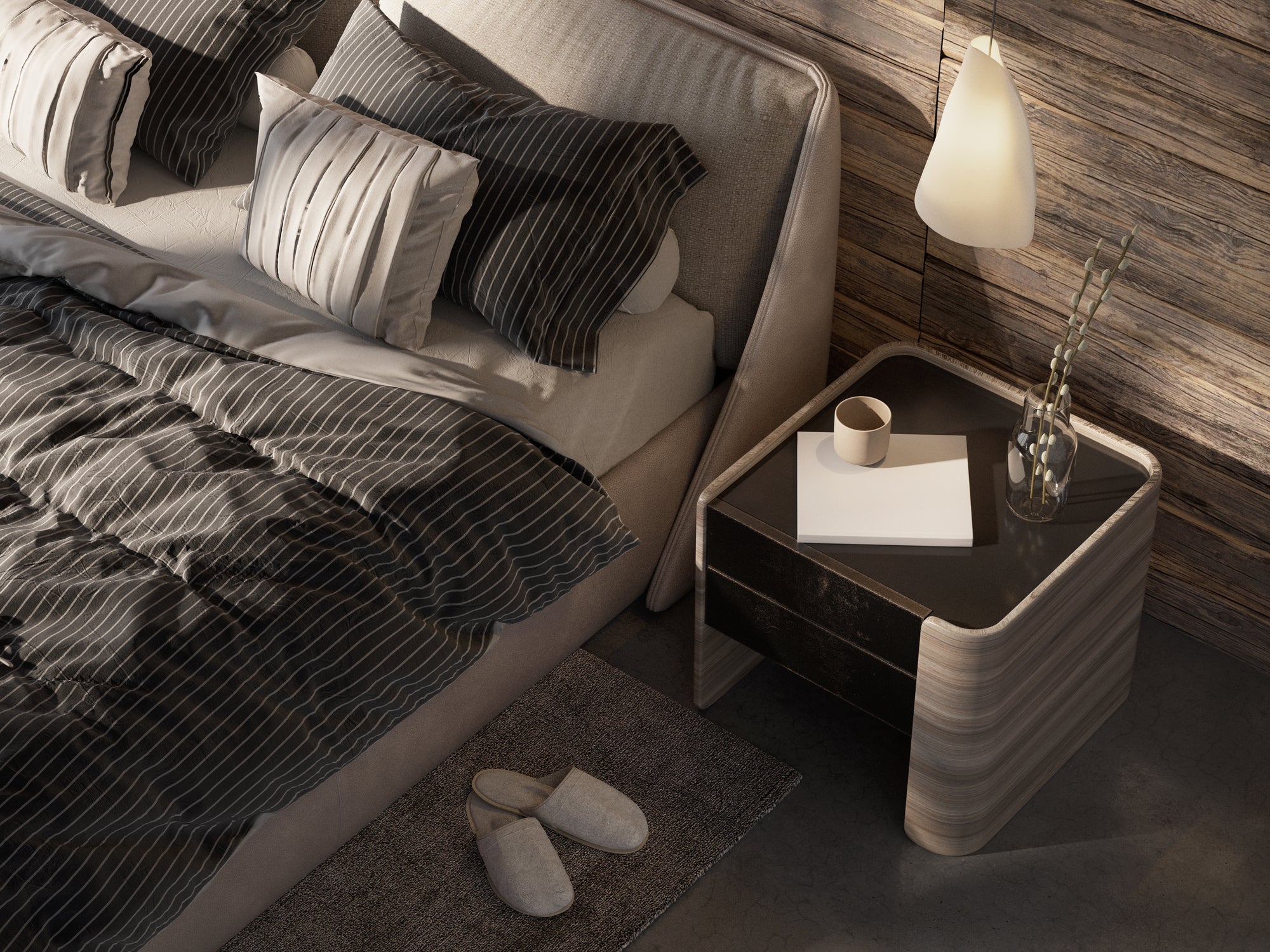 Next to your bed, the bedside table is the most conspicuous piece of furniture in your bedroom. This is why plenty of thought should go into its selection. 
There are quite a few things to consider when choosing a bedside table. The size, design, material, and functionality should match your bedroom's aesthetic, as well as your needs.
If your design philosophy runs more to the contemporary, you're in luck. You have a wide range of options to choose from. But which one is right for you? 
Here are a few things to keep in mind when shopping for a modern bedside table:
1. Choose a design that goes well with your bedroom decor
There's a bedside table for all interior styles – whether traditional, contemporary, industrial, or bohemian. Often, the material plays a big role in the overall look and feel of the furniture.
For a modern bedroom, your choice of materials include wood, metal, plastic, vines, and so much more. You can opt for a minimalist design like this black modern piece with a tempered glass top and marble base. Or this stylish statement piece with a wood top and structured metal base.
You can also go for something more ornate such as this wooden side table with a fluted design. Or go industrial with this sleek cylindrical metal table with a satin brass finish.
These elegant modern pieces are also highly versatile and can go well in your living room, entertainment room, or other parts of the house.
2. Check the size and proportion
Many modern bedrooms have smaller sizes compared to traditional bedrooms, so there's no room for large, bulky furniture pieces. However, you also wouldn't want a bedside table that can barely hold a table lamp and/or your everyday items, such as your eyeglasses, cell phone, alarm clock, teacups, and others.
Take out your measuring tape and determine how much space you have for a bedside table. Make sure it will comfortably fit the side of your bed and will not cramp movement around the room. If your bed has drawers, you should be able to open them without obstruction from your bedside table.
As for the height, ideally, the table should be the same height as your mattress or slightly lower so it's easy to reach for your belongings.
3. Choose a piece that's easy to clean
In today's fast-paced lifestyle, there's generally little time to do household chores like cleaning and dusting. Many contemporary homes reflect this, employing easy to clean features with stain and dirt-resistant finishes.
For a truly modern bedroom, choose a bedside table that minimizes the need for intensive daily cleaning. You can find pieces with veneer finishes that only require wiping with a damp cloth. 
You don't have to worry about leaving coffee stains or other blemishes. They're also dirt resistant and durable, so they're able to retain their appearance longer.
Finding luxury side tables for your home doesn't have to be difficult. Check out our expertly curated selection here and choose one that best suits your modern lifestyle.
---